What makes a house a home? In short, livability. A house should FEEL good. Even contemporary designs, which are often referred to as "cold" should be inviting; when you walk in, you should want to sit down and stay there!
We are a "design build" firm, which means we have experience in every aspect of residential design – from creating floor plans to designing kitchens, baths and living spaces, from ground-up builds through updates and upgrades. From new builds, to entire house gut and remodels, to the additions of bathrooms and flex spaces to redesigning spaces to make them not only look better, but function better – we've done it all!
We will help you create the ideal living space for you and your needs. While there may be many current trends, your "urban modern farmhouse" or tuscan themed bathroom does not need to look identical to your neighbors. In fact, it should be completely unique to YOU!
We work with hundreds of vendors to help you find the right fixtures, cabinets, flooring and finishes to make sure you house feels like HOME, every time you walk in the door!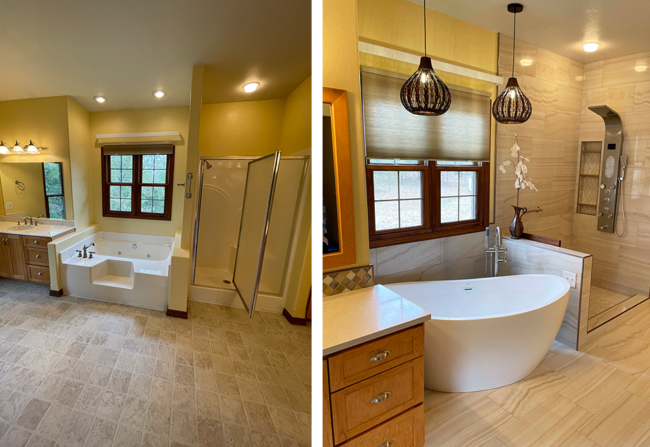 This is a great example of what a little updating can do! This custom home was over 20 years old, and a little updating went a very long way!
When you are ready to get your project started, you can begin the estimate process right here on our website! Just fill out our estimating tool as thoroughly as possible, and throw in a few photos. We're excited to help you get started!